Hair extensions are a wonderful way of providing instant length, fullness, and shine to your own hair.
The first thing you must consider before delving into extensions is if your hair is healthy enough to be able to support the hair extensions.
Before confusing yourself by comparing all of the Hair Extension systems that are on the market, note that all Hair Extensions can generally can be classified in two categories, by their attachment method, and by hair type.
The Methods of Attachments:
Strand by Strand, Weft/Weave, Tape-in and Clip-in.
Strand by Strand ( $5 to $800 - lasts up to 4 months )
Small sectional pieces of hair are attached one by one to small sections of your own hair by using bonding (warm or cold), clamping, shrink tubing, micro tubes.
Keratin tipped warm Fusion Extensions
Pros:
Longest lasting method 3-6 months +

New inventive installation technique
Cons:
Most costly of all methods

Time intensive installation

Slightly detectable
Links, Microlinks, Beads, Tubes, Rings, or Locks
Strand to Strand technique where the extension hair strand and your hair is put through a small tube which is then squeezed shut with a special tool in order to attach the extension to your hair.
Pros:
Less expensive than Fusion techniques

slightly less time consuming installation compared to the Fusion method.

Micro-beads can be moved up when they slip down the hair shaft.

Longer lasting method than Weft systems.
Cons:
Heavier and more readily seen when compared to the other Fusion methods.

M-Links\ tubes are hard metallic materials and can be uncomfortable against the scalp for some especially when lying down.

Micro Links sometimes slip down the hair shaft and may need readjustment or slip out all together. fastening too tight can result in hair breakage.
Braided Weft ( $100 to $400 - lasts 2 months )
Pros:
Fairly fast to apply.

The least expensive method.

The weft will stay in place without worry of individual strands/links falling out.

The hair can be re-used/re-tied for as long as the hair is in healthy condition.
Cons:
More weight per hair than Strand method.

Weft Hair extensions are more difficult to hide with a slick ponytail.

Maintenance is needed more often.
Tape-ins ( $8 to $400 - lasts up to 3 months ) My personal favourite!
Pros:
Fast installation.

Very flat and light weight.

Virtually undetectable.

Painless to sleep on.

Perfect for high or low ponytails or buns.
Cons:
Tape can, but rarely, peel at the corners if too heavy of a conditioner is used or if washed every day.

Some maneuvering of the tape is necessary to get a straight back ponytail, but nothing like the braided weft.
Clip-ins ( $ 100 to $300 ) - are the shortest term temporary solution in which you use on a day to day basis, and remove them before retiring for the evening.

Remy hair is considered the best quality hair available since the cuticle is aligned and flowing in the same direction.
Other non-Remy Hair types are processed with silicon and the cutlicle is removed. This treated hair has tendency of tangling, drying out, matting, and oxidizing much quicker. With other hair, you will never approach the natural looks you get with Remy hair.
Finally there is synthetic hair. Technology is ever improving the quality of synthetic hair, but as of this day Synthetic hair still does not come close to the looks and feel of real hair, blending of the hair is a real issue with Synthetic hair. So for a bit more money your extensions will look better last longer and require less maintenance if you use Remy hair.
Prices vary according to the quality of hair, length of hair and installation method.
If you already own some hair and would like me to use it, bring it along to your appointment, otherwise I will personally travel with you to where the hair is purchased, by you, to ensure the perfect colour match, length and quality - as hair is not returnable.
I also make convenient, 2 piece, custom-fit clip-in hair extensions for you to use at your leisure! Much easier to install than the multi-piece attachment method. contact me for details!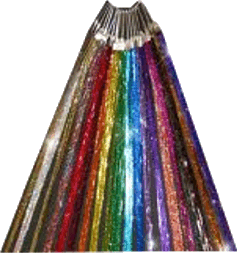 I carry a wide variety of colours to choose from, including 'glow in the dark'!
$ 3 Per Strand
0

/