Permanent Makeup - Cosmetic Tattooing
Dating back to ancient Egypt, makeup has since been used for beauty enhancement.
Permanent makeup allows women to feel their best knowing that their makeup will be perfectly applied every day!
Not only will permanent makeup save you time and money, it can assist those who need help in applying it - women with poor eyesight, those who have sustained an injury and find it difficult to lift their arms, women who want to correct or enhance uneven features, people who have alopecia, cancer or simply have allergies to cosmetics.
There are many reasons to inquire about permanent makeup, if not for just for saving time and money alone!
Permanent Makeup Procedures:
Eyebrow Feathering/ Microblading (fine hair strokes)
Eyebrow Shading (appearance of pencil shading)
Eyebrow Enhancement (correcting or enlarging)
Head or Tail correction
Eyeliner (thin or dramatic / Top or Bottom)
Lash Enhancement (along lashline only)
Waterline (between lashes and eye)
Lip Liner
Lip Blend
Full Lip Shading
Lip Shape Correction & Fill
Lip Blend
200
300
200
150
150 - 600
150
300
200
300
400
500
500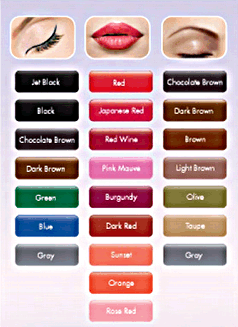 With a wide variety of colours to suit your natural tones, together we will be sure to find
just the right colours for you.
If you have a question about any procedure
and whether it is right for your lifestyle, feel free to contact me.
Eyebrow Feathering/Microblading
Eyebrow Shading with Scar Camouflage
0

/